Hundreds of Cycle NC riders will visit Mount Olive October 8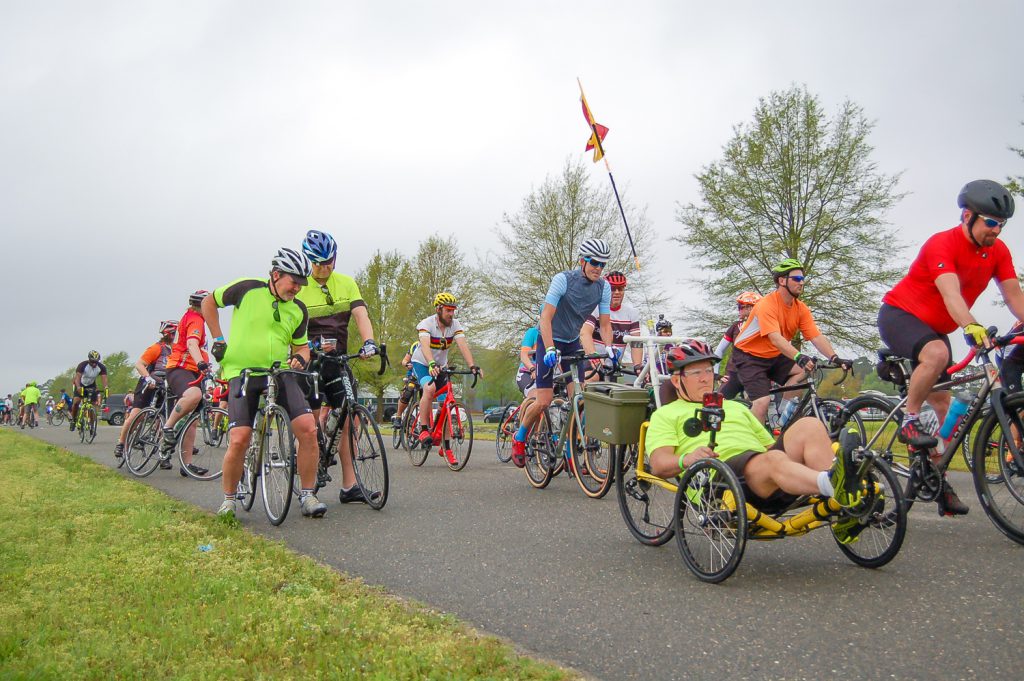 FOR IMMEDIATE RELEASE
September 23, 2021
MOUNT OLIVE—Mount Olive will roll out the welcome mat to hundreds of cyclists expected to roll into downtown throughout the day on Friday, October 8.
Mount Olive's Historic Train Depot will serve as a rest stop for Cycle NC's annual Mountains to the Coast ride, which starts Saturday, October 2 in Sparta and ends over 450 miles later the following Saturday, October 9 at North Topsail Beach. Cycle NC organizers anticipate approximately 800 riders will participate.
The Mount Olive Area Chamber of Commerce, the Town of Mount Olive and Mt. Olive Pickle Company are working with Cycle NC to plan for the day.
Race organizers will provide drinks, snacks, portable restrooms, and bike maintenance services for the rest stop. The rest is up to local organizers. Cycle NC encourages communities to show off their local history, food and culture for riders, who participate as much for the authentic experience of North Carolina towns as they do for the cycling.
"This is a great opportunity to show off our town to people from across North Carolina and all over the country," said Julie Beck, chamber president. "We can show them what makes us so special and give them a good dose of our dill-lightful hospitality. Hopefully, they'll come back, or at least tell others about us."
The cyclists will spend Thursday night in Smithfield, then bike their way over to Mount Olive, arriving between 9:45 and 3 p.m., with the bulk of them arriving midday. A rest stop at Grantham Volunteer Fire Department is the only other Wayne County stop on the ride.
Riders will be encouraged to explore downtown and take in lunch at one of the local restaurants or food trucks. The Mount Olive History Museum will be open, and a self-guided walking/biking tour highlighting the town's history, architecture, and points of interest will be offered. Mt. Olive Pickle will give away free pickles throughout the day, and riders will have a chance to take a ride on the Parks & Recreation Department's pickle train.
From Mount Olive, riders will cycle to Kenansville to take in the sights there, and then head to Wallace's River Landing where they will spend the night. The ride ends in North Topsail on Saturday. Some riders, participating in a Century Ride – 100 miles in a day, will leave Mount Olive and take in Elizabeth's Pecan Shop in Turkey before rejoining the main route in Kenansville.
"We want to give everyone a heads up that we'll have all these folks here," Ms. Beck said. "They will arrive in town via Smith Chapel Road from the west, spend time downtown, and then head out towards Kenansville via East Main, Johnson and Oliver streets to Beautancus Road. If you encounter any of these folks, be sure to throw up your hand and say hey."
In its 22nd year, the Mountains to the Coast Ride features a different route across North Carolina every year. It last had a major rest stop in Wayne County in 2013, when riders landed at Cliffs of the Neuse State Park. Century riders left there and visited Mount Olive's Westbrook Park.
"We had a great time then, and we are excited that Cycle NC is making its way back to Wayne County, and specifically to Mount Olive, this year," said Lynn Williams, public relations manager for Mt. Olive Pickle. "This will be a really big dill for all of us."

##

For more information, contact:
Julie Beck, 919-658-3113 or president@mountolivechamber.com
CUTLINE: Hundreds of cyclists like these are expected to descend on downtown Mount Olive throughout the day on Friday, October 8 as part of Cycle NC's Mountains to the Coast ride. This image is from the North Carolina Pickle Festival's Tour de Pickle.