For Immediate Release
September 27, 2021
Ghosts Tours Return to Goldsboro This October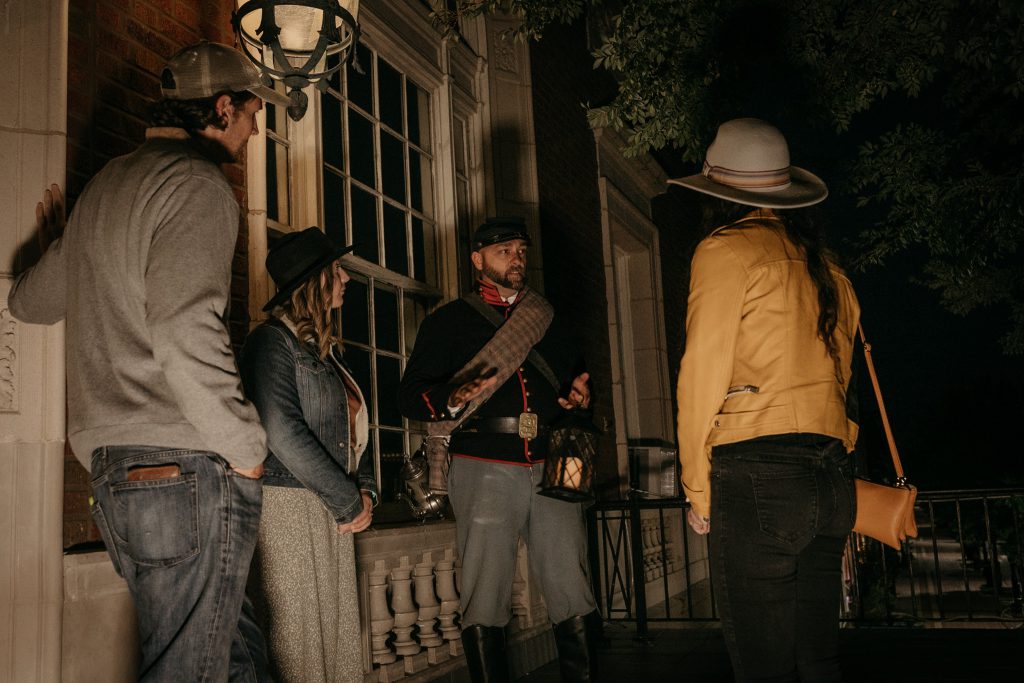 Totally Fly Ghost Tours in Historic Downtown Goldsboro. Photo Credit: Will & Chelsea Collins/Visit Goldsboro.
Goldsboro, N.C. — Visit Goldsboro, the travel and tourism department for Goldsboro-Wayne County, is relaunching its Totally Fly Ghost Tours just in time for the fall season. The tour series will start Friday, October 1, 2021 and will take place on Fridays & Saturdays for most of October and November. Friday tours will take place in historic Downtown Goldsboro and Saturday tours will take place at the Goldsborough Bridge Battlefield site. Tours are from 8-10 p.m. and the cost is $15 per person. Both tour types are completely outdoors and limited to 30 people. Tours will entail 1.5-2 miles of walking, as participants are led by a certified paranormal investigator.
"We are excited to launch our ghost tours just in time for the spooky month of October," said Ashlin Glatthar, director of travel & tourism for Goldsboro-Wayne County. "The two different ghost tours options, Downtown and the Battlefield will be both educational and entertaining as people will get to learn the history of our friendly, paranormal inhabitants. The tours are designed for visitors and locals to discover a different, and even surprising, side of Goldsboro."
The Downtown Ghost Tours on Fridays will start and finish at Well-Traveled Beer located at 201 S. Center Street. The Goldsborough Bridge Battlefield Ghost Tour takes place on the historical site in Dudley, N.C. Parking is free at both locations. Interested participants are encouraged to sign up for both tours for the complete paranormal experience.
More details are on the website and on Visit Goldsboro's Facebook event page.
###
For more information, contact Ashlin Glatthar, Goldsboro-Wayne County Travel & Tourism Director, (919) 734-7922 or aglatthar@goldsboronc.gov.